Tirana – The National Council for European Integration (NCEI), the highest national consulting structure for the process of European integration, held a meeting on April 3rd, 2023 with a special focus on the progress of the Berlin Process, and the challenges and achievements of Albania so far. RYCO Secretary General was invited to join the panel discussions and elaborate on the Achievements and Challenges of RYCO, as one of the most successful, concrete, and visible results of the Berlin Process.
In his speech, Mr. Hani gave an overview of the achievements and challenges of the Regional Youth Cooperation Office. First, Mr. Hani explained that RYCO is an intergovernmental organization, headquartered in Tirana, founded by the governments of the 6 Western Balkans societies, with the aim of promoting the spirit of reconciliation and cooperation among young people in the region through youth exchange programs.
"Since 2017, RYCO exchange programs brought together more than 27.000 young people from the region, we engaged over 4.500 volunteers and youth workers and supported dozens of social businesses and hundreds of young entrepreneurs. We have organized more than 1.000 different activities, cooperated with more than 160 schools, connected 30 students' organization, financed projects of nearly 400 CSO, and much more." – Mr. Hani added.
Among other things, Mr. Hani emphasized that the mission of RYCO focuses on the values of the EU, and in his talk, he focused also on the main priorities of the RYCO Strategic Plan 2022-2024 in which the needs of young people, and their concerns are reflected which are: 1. Providing Opportunities for Youth, 2. Supporting Multipliers and lastly 3. Advocating and Raising Awareness.
"By bringing together the youth of the region in educational, cultural, civic, and social activities we empower young people to share their experiences, break prejudices, explore different cultures, learn about each other, and achieve personal success. And this is precisely the goal of RYCO, as stated in our slogan – A better region begins with YOUTH" – Mr. Hani concluded.
In addition, the valuable insights provided by Mrs. Majlinda Bregu, the General Secretary of the Regional Cooperation Council, Mrs. Belinda Balluku, the Deputy Prime Minister and Minister of Infrastructure and Energy, Mrs. Jorida Tabaku, the NCEI Chairwoman and Mr. Taulant Balla, the NCEI Deputy Chairman, were a valuable complement to the panel discussions.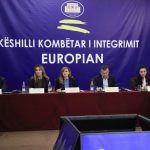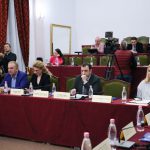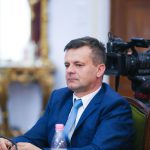 The meeting was broadcasted live on national media and the Official Facebook account of the Albanian Assembly.
Photo Credits: parlament.al