Tirana – In an exciting development, the President of the National Council of Austria, H.E. Wolfgang Sobotka, paid a visit to the premises of the Regional Youth Cooperation Office on the 27th of June. Accompanied by the Austrian Ambassador to Albania, H.E. Christian Steiner, and a high-level Austrian delegation, the esteemed guests engaged in a productive meeting with RYCO officials.
Among the participants from RYCO were Secretary General Albert Hani, Deputy Secretary General Denis Piplas, and Head of the Local Branch Office Alba Brojka. Together, they had the privilege of discussing RYCO's vital work in empowering the youth of the region.
During the meeting, the delegation highlighted the significant support provided by Austria to further enhance RYCO's initiatives. President Sobotka expressed his appreciation for the efforts of RYCO in empowering young individuals and acknowledged the organization's role in promoting regional stability and fostering mutual understanding among diverse communities.
RYCO Secretary General Albert Hani and Deputy Secretary General Denis Piplas, expressed gratitude for President Sobotka's visit, highlighting the importance of such high-level engagements in advancing youth empowerment initiatives. Mr. Hani emphasized that RYCO is committed to ensuring the voices of young people are heard, fostering their active participation in shaping the future of the region.
As the meeting concluded, both RYCO and the Austrian delegation expressed their commitment to fostering closer collaboration, underlining the importance of empowering young individuals as catalysts for positive change. The visit of H.E. Wolfgang Sobotka, President of the National Council of Austria, to RYCO served as a testament to the growing recognition of RYCO's significant contributions to regional youth empowerment.
With the continued support from Austria and other partners, RYCO remains dedicated to creating a prosperous and harmonious future for the youth in the region.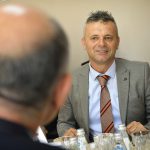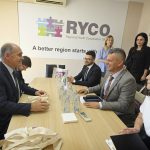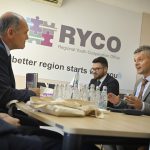 Alle Fotos © Parlamentsdirektion/Johannes Zinner