Agustin Aramadhi is a 24-year-old boy full of desires and passions for life. Although life has faced him with many grey days, he has chosen to make them shine and shine through them. He had not had the chance to walk, but he never stopped moving forward despite the difficult life in a wheelchair.
This young man from Albania is calm, smiley and without any sense of inferiority to tell about his life's ordeal. Even though he has never touched the ground to walk like everyone else, he has never stopped hoping. Due to the aggravated health condition Agustin underwent 9 surgeries at a young age, but none of them enabled him to walk. He still continued moving forward as if, moving in a wheelchair was a simple occurrence of life and not a major obstacle.
The hardship of life made him stronger, determined to get through, to break taboos and make the impossible possible. He has completed his bachelor studies in Political Science and is pursuing a master's degree.
Augustine is an inspiring example to be followed by his relatives, friends and youngsters. The 24-year-old has two jobs, one part-time and one full-time. For several years he worked as an IT engineer for the biggest telecommunication agency in Albania. He also offers his expertise to neighbors or clients who need help with computer formatting, downloading various programs, etc, work that he delivers for free, just with the great purpose of helping them. 
His life today is between work and family. And while his parents are now retired, it's Augustin's time to support and help them. He has become the strong 'pillar of the house', because it is with his income that he supports his family's needs. He takes good care so they don't miss anything.
Despite his limitations in life, he has no limitation when it comes to dreams. While his MA degree is on the way, he utters out that the doctorate is his next goal. Agustini envisions his future as a lecturer in one of the special schools for people with disabilities, preferably in the school where he studied. And he is determined that, once this becomes a reality he will strive with all the means to create facilities for students with similar problems and open the door for anyone who has the desire, passion to move forward and never stop.
Creating a family is another desire of Agustini. He considers it a life cycle. And he is happy and feels lucky that he has opened his heart to someone special who makes his heart beat fast, his mind wander and brings butterflies in his stomach. 
So now he has something beautiful to work for. Dedicate his heart to the one he loves, which as he says: "It happens only once in a lifetime. I do not know if the rest of the people can agree with this. I think that only one person can find a place in the other's heart and if this happens it is forever…and I know that there are many challenges," concludes Agustin Aramadhi.
Today he lives a life full of activities and everything that he has, makes him feel fulfilled, inspired and ready to move on without lowering his head, without whining over the difficulties that life faces him. 
"In fact, everyone has difficulties, right?", he says. "It is the mind that can set the predisposition for desire and willpower to overcome them. You can overcome any difficulties and obstacles with inner strength, normally with the support of the family, with the support of the social circle. The challenges are quite small and quite negligible with their presence."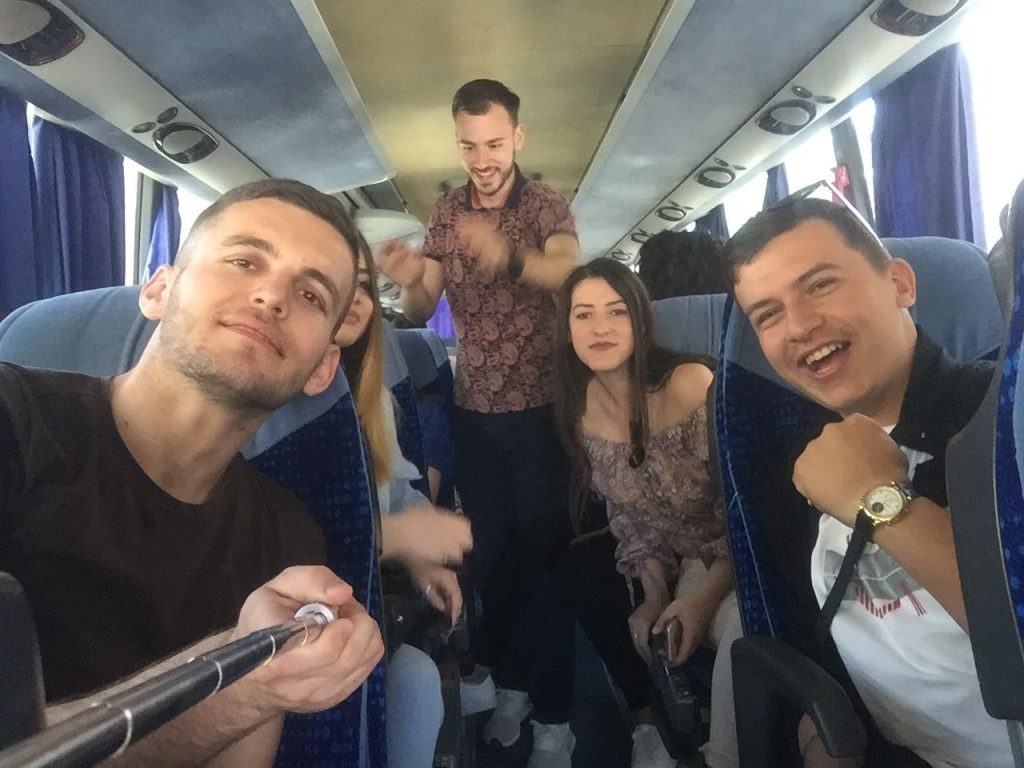 "The biggest support has come from the family, especially from mom," he adds.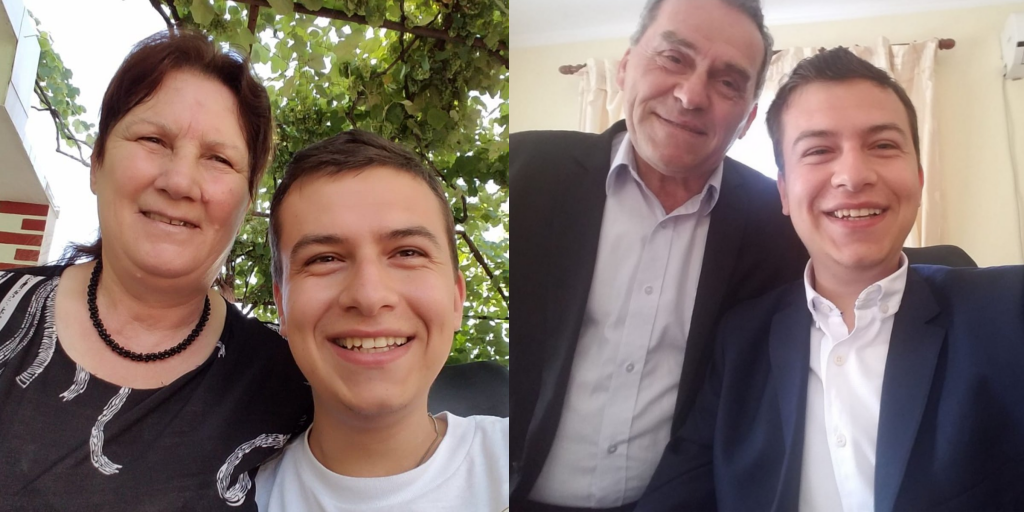 Thus, the inability to walk did not stop him from realizing his own dreams.
How did his life start?
When he was only 2 weeks old, Agustin Aramadhi was afflicted with polio, a disease that left him paralyzed forever. His childhood is considered extremely difficult. Unlike his peers, Agustini did not go to kindergarten or even elementary school. His physical condition prevented the boy living in Tirana from integrating, from becoming part of an educational institution. For this reason, he began to self-learn at home, with the help of his parents and especially his mother, Age, a lady devoted and patient to her only son.
Agustini never gave up on the desire to be educated and at the age of 11, after the persistence of his parents, especially his father Sokol, he managed to enter the school, at the fifth grade. He was an excellent student and showed to everyone that he hasn't missed anything from learning at home.
"For me, school is a miracle," Augustin claims. He recounts: "Since I started self-learning at home, on a regular basis, I remember it being quite an intense period of time. I was taught at home by my parents who are not even teachers. I must say that extracurricular learning was very rewarding. I had not been in school before the age of 10, and before enrolling I went through an exam that enabled me to go to the fifth grade with my other peers, which was a grand achievement for me."
In the eight grade he had to stop school again to travel to the United States to get a cure for his condition. This opportunity made him greatly happy. Together with his mother, he moved to the US, for a period of 5 months during which time he underwent 6 surgeries in a row. The results were positive, but neither enabled him to walk…
He recalls: "In the eighth grade I had to take a break, to go abroad. Not for vacation, but for surgery. In addition to school challenges, I also had health combat. The polio damaged my left leg cells, my muscles in terms of functionality and I also had a problem with my right hand which is a bit clumsy. After all this time of research in Albania, no suitable cure was found and help was given from abroad. I went to the United States, where I had 6 surgeries during  a period of 5 months. The shortest operation in terms of duration in the operating room was around 6 hours."
His great willpower was noticed by the American doctors, who awarded him with the prize "Hero of the Month" due to the courage demonstrated through the whole process. 
He remembers this moment with pride "The doctors there considered me brave, for the fact that I was ready to do so many surgeries in such a short period of time. So I was awarded the prize "Hero of the Month" in July 2011. I got a medal, I got a certificate and a lot of nice things happened that motivated me."
This was the first price to be accompanied by many others certifications and diplomas. But he insists to move on pursuing value and chasing his dreams.
Author: Klevisa Gjika
This story was produced during the three-month Program for Students of Journalism in the Western Balkans within the framework of the advocacy project "A Better Region Starts with Youth" implemented by RYCO with the support of the Federal Republic of Germany. All journalists' work is their own and the content of any given article does not represent the opinion of RYCO, and RYCO cannot guarantee the validity and the accuracy of the information that these stories contain.