When COVID-19 virus had an outbreak, masks were nowhere to be found. Even if you could get your hands on some, they were really expensive. But, there is always someone who can brighten up your day in those times with their humanitarian act. Aleksandra Aleksandrović from Novi Sad is a young lady who voluntarily started making masks and gave them for free to people who needed them, but couldn't afford to buy one. Also, Aleksandra is a successful pianist, works at Radio – television of Vojvodina and her life story is worth sharing with the world.
When the pandemic hit Serbia as well, you started sewing masks, both normal and transparent ones. How did you start sewing and how did the idea for transparent masks come about? 
A: As with everything else, the trigger was emotion. In those days (March), I was looking for masks that were nowhere to be found. I don't know how many pharmacies I visited and how many lines I stood in, I couldn't buy a mask anywhere. A neighbour gave me three masks and that made me immensely happy. I decided to expand that feeling: to distribute masks to everyone who, either for financial reasons or due to shortage, cannot get a mask, and masks are necessary today. On one foreign portal, I read the news about a girl who sews masks intended for people with hearing impairments. These are masks that do not cover the mouth, but are transparent in that part, which enables people with impaired hearing to read from the lips. As I read that news, I got the desire to make that model of mask as well.
At the beginning of the pandemic your work was entirely on a volunteer basis, however later you started charging only for material. Is it still like that or has something changed during these 9 months since all this started?
A: That's right, for the first 5 months, my work was totally voluntary. I paid for the materials from my savings, so in a way it was a gift. Then I only charged for materials. At the moment, my work is no longer voluntary, now I regularly charge for masks.
How do you find the material, especially that transparent part,  is it blurred when we talk and how is this problem solved?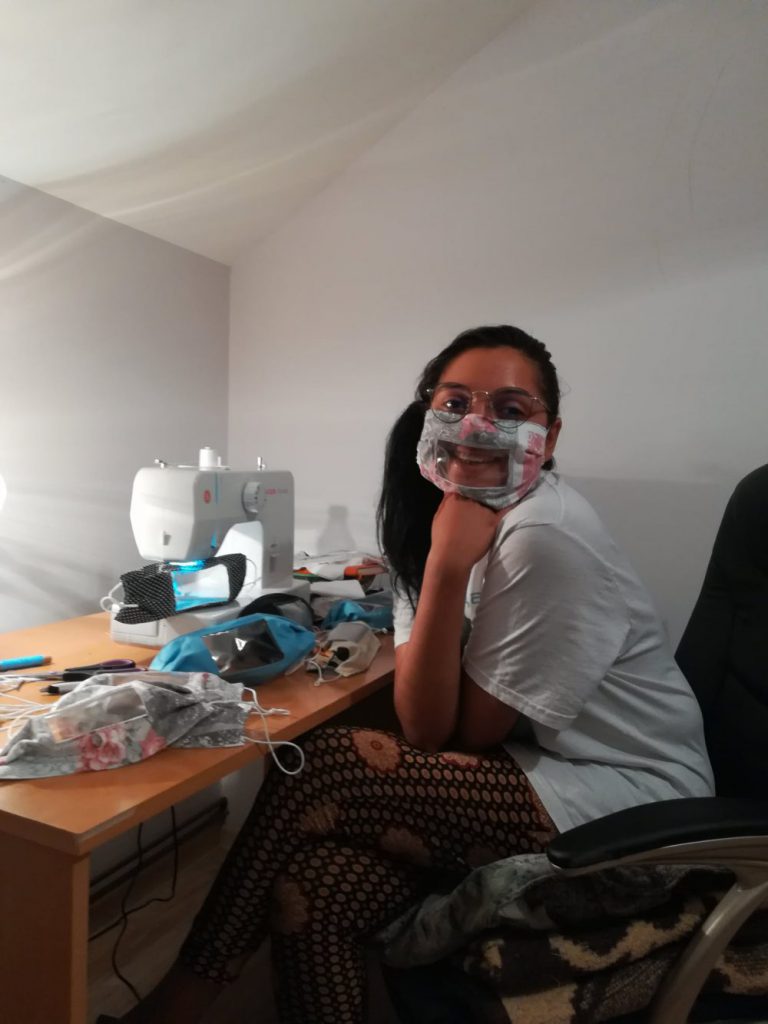 A: I procure the material in haberdashery and bookstores. To prevent fogging, you need to rub the transparent part with solid soap, wipe the rest with a cloth and then it will no longer fog and it lasts for a long time.
How did you get acquainted with the whole community of people who are facing problems like this, where the ordinary masks do not suit them and they need something different?
A: One of my master's exams is dedicated to people with disabilities. I attended dance classes which were also attended by people with disabilities. All this made me sensitized to this population.
Are transparent masks used only by those who have a hearing problem, or has it spread to others?
A: Of course it has spread to others. A lot of speech therapists use these masks and say they are great at working with clients. Let's say a lot of teaching staff. But also those who just want to show their smile or lipstick.
Masks were donated not only in Serbia, but also throughout Europe. To whom and in which places have the masks arrived so far?
A: The masks also went to Montenegro, Bosnia and Herzegovina, Germany and Switzerland. It went to pedagogues, people with hearing impairments and those who just wanted to show off their smile.
What was the hardest thing for you when the epidemic was at its peak in Serbia, considering that in addition to sewing masks, you play the piano and work at Radio Television of Vojvodina, and how did you achieve everything then and now?
A: Good organization, will and people who support you. Yes, there were days when I couldn't achieve everything, but then I thinned my obligations a bit in order to achieve everything I had on the list.
Knowing that you are both pianist and drama pedagogue can you share when did that love for music come about?
A: My love for music appeared at the age of 5 or 6, watching my older brother play the accordion. He then went to music school. By the way, mom and dad are anti-talents for music and none of them played anything, not even grandparents on either side. Dad graduated from the Faculty of Economics, mom from commerce high school, and grandparents were engaged in agriculture and farming. However, tamburitza players and accordionists often came to our house because my dad is a big bohemian and he loves music. And so we fell in love with music as well!
And piano is not the only instrument that you play?
A: That's right, through school I learned to play more instruments. My first instrument is the accordion, then the piano, and then the tamburitza prim.
You have struggled with prejudice throughout your life because you are a Roma woman. Was the key to success and the desire for new knowledge that you wanted to "beat" those who had different negative opinions and finally get in the way of that, or was that something you always carried within you?
A: Both I would say. And if there was no discrimination, it would be quite certain that my parents would raise me to invest in education, and that this is my life's calling. And the discrimination made my self-confidence drop and I felt very bad. Thanks to my parents, relatives, friends, professors, colleagues who did not allow me to fall, I strengthened, strengthened my faith in myself, strengthened my self-confidence, strengthened my self-love and self-respect.
What would you say to young people to motivate them to start humanitarian actions such as sewing masks? What motivated you, and could help others find motivation?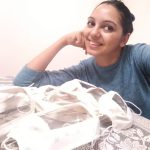 A: I was motivated by happiness and satisfaction of the people who use something that is the work of my hands. My message to young people: Change starts with you!
Author: Dijana Dacin
This story was produced during the three-month Program for Students of Journalism in the Western Balkans within the framework of the advocacy project "A Better Region Starts with Youth" implemented by RYCO with the support of the Federal Republic of Germany. All journalists' work is their own and the content of any given article does not represent the opinion of RYCO, and RYCO cannot guarantee the validity and the accuracy of the information that these stories contain.